REJOICE!
REJOICE!
REJOICE!
FUNIMATION'S GREATEST ANNOUNCEMENT EVER!!!!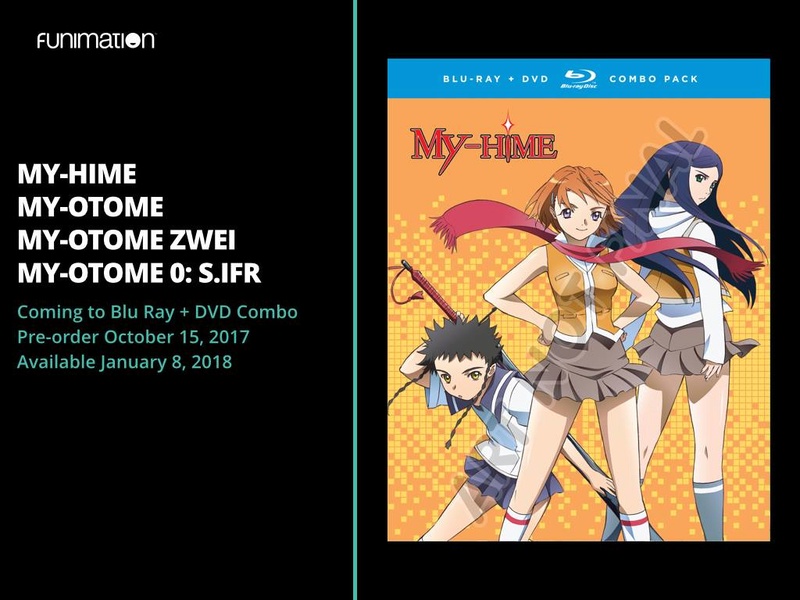 FUNimation Entertainment announced at its industry panel at New York Comic Con 2017 on Thursday that it will release My-HiME, My-Otome, My-Otome Zwei, and My-Otome 0: S.IFR (My-Otome 0~S.ifr~) on Blu-ray and DVD combo packs on January 8. There will be three releases: My-Otome 0: S.IFR and My-Otome Zwei will bundle together in one set. Funimation announced in 2013 that it had licensed all four titles previously licensed by Bandai Entertainment.

Bandai Entertainment described My-HiME:

Before coming to the Fuka Academy, all Mai Tokiha wanted was to live an ordinary high school life, but that's the last thing she's going to get. It turns out that Mai is a HiME, one of twelve girls with supernatural powers that are gathered at this school to fight the Orphans, demons that dwell around the school. A secret organization has other plans for the HiME than just demon-busting and Mai and the other HiME will have to risk something precious to protect the ones they love.

The anime premiered in 2004 and was followed by the My-Otome anime, which featured the same characters in an alternate world, in 2005. The My-Otome Zwei and My-Otome 0: S.IFR original video anime (OVAs) were a sequel and a prequel, respectively.
One of the greatest animated shows in the history of animation was given a release date for it's Blu-Ray combo today at New York Comic Con 2017!!! Mai-HiME and it's spinoff sequel Mai-Otome have it all: Drama, comedy, adult humor, character development, rich storytelling, excellent battles, superb writing that involve religion, various mythology, sci-fi, philosophy, world building and lots more!
I'M. SO. HAPPY. RIGHT. NOW!!!!!
Our beloved series is finally on the ultimate format. I encourage all of you to preorder the series on the 15th. I'll be back to provide the link!
_________________
Mai
-X-
Project
The law of physics: Whenever there's this much gay in one room, Shizuru manifests!When Shizuru said "Ara" for the first time, the "Ara" broke into a thousand pieces and they all went skipping about. That was the beginning of fairies.
Administrator. The Showstopper. The Headliner. The Main Event. The Icon. Mr. Mai-Series.





Posts

: 38859


Bubuzuke points

: 42554


Armitage GUTS!!!

: 2512


Join date

: 2010-05-01


Age

: 31


Location

: Garderobe Academy




Similar topics
---
Permissions in this forum:
You
cannot
reply to topics in this forum